A new home for Fair food
Share
Get more Living in your inbox
Sign up to Living-news to receive top tips and inspirational content
Subscribe
Share
A new hope for our communities
Fair Food is an unsung hero. They may not be a household name, but they are in thousands of Kiwi households every week - putting food on the table.
Founded in 2011, Fair Food is Auckland's first food rescue charity. They collect surplus food that's still good to eat from primary producers and retailers – food that would normally go to landfill - and they sort it and redistribute it free of charge to people who need it most working with over 50 trusted charities.
Fair Food had been operating a mobile service for almost 10 years when they decided it was time to have a home of their own. They wanted a more sustainable approach, to be able to cope with the rising demand and to scale up when required. But little did know that demand was about to go through the roof.
The Covid Chaos
When Covid-19 hit in early 2020, Fair Food found themselves inundated with food. 26,000 eggs in a day. Pallets of chicken. Truck loads of fresh fruit and vegetables. Bakery goods and food from restaurants, cafes, food growers and retailers that had to shut under lockdown. Almost overnight Fair Food went from distributing 121 tonnes of surplus food in 6 months, to 143 tonnes a month – distributing over 400,000 meals!
They stepped up, they delivered but Veronica Shale, Fair Food's Executive Director or Chief Cheerleader, as she likes to call herself, knew they couldn't go on scrambling across town using four storage facilities.
Mid way through 2020 Fair Food consolidated operations into one of their shared pop-up hubs and started the search for a site that could become their fit-for-purpose home to respond to the growing need for food, and for food recovery services by food businesses. Fast forward to November, and their exhaustive search for a home led them to a 386 sq meter warehouse on Rosebank Rd, Avondale that needed converting into a super-efficient base and more.
Veronica explains. "We needed a fit-out that would enable us to do our job in a safe, welcoming way – that would allow our volunteers to make a great impact on the people who need our support most."
So just two weeks before Christmas, when most tradies are hanging up their tools, Veronica put out a call for help.
Fletcher Living Project Managers Charlie Meredith and Graham Harris met up with Veronica and quickly realized that they were about the only company who could really help in time. As Charlie admits:
"We had our tradies, our suppliers and we knew the availabilities – so we just rolled up our sleeves and got stuck in."
With Fletcher Living leading hand Wayne Edwards doing the lion's share of the carpentry work, Charlie asked other suppliers to help and everyone leapt at the chance.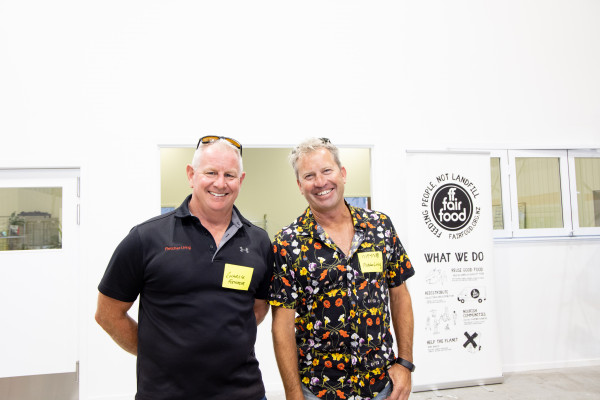 "PCI did all the wiring and put in a new electrical board, Paul Grubb from PG Plumbing did an amazing amount of work on the kitchens and bathrooms for free. MicoPlumbing got an awesome industrial faucet from an overseas supplier in record time and at zero cost…everyone was just so keen to help." Says Charlie.
The warehouse walls needed lining and Ultra Interiors took care of the gib stopping and painting with paint donated by Dulux. Special food grade doors were custom made by Nebulite to provide a seamless link between office space and the warehouse.
The Fletcher Living team put a lot of sweat into the project too. Charlie personally laid 23 bags of dry-con concrete, again donated by Placemakers and screeded it all off. Doing the jobs that are not easy to get done for free.
With the project finished on February 14th, the team and all the generous suppliers are rightfully proud of their achievement.
"We didn't know anything about Fair Food before, and when people saw and understood what they were doing, they were so keen to help. Nobody likes wasting food and now I recommend Fair Food to anyone who'll listen!" Concludes Charlie.
That feeling achievement is echoed by Veronica and her team at Fair food, who are now proud owners of a fully functioning and somewhat funky workspace.
"The speed and the generosity have just been awesome. To move at that speed and with no surprises is incredible. Plus, they are just a great bunch of guys to deal with!" Says Veronica.
The new home for Fair Food is bright and welcoming and there's a feeling of fun as well as purpose about the place. It's more than a warehouse, there's a sense of hospitality albeit on an industrial scale.
The vision is bigger than a just center for distribution. This will also be home of learning, of involvement – where groups and corporates can come and participate in the rescuing of food, the distribution of help and the sharing of aroha.
Click here if you would like to read more about Fair Food, or to donate or volunteer.
---
We use cookies to ensure that we give you the best experience on our website. By continuing to use this website you are giving consent to cookies being used. View our privacy policy and terms of use for more details.