KiwiBuild Homes
KiwiBuild homes are built with the same materials as our open market homes but are price capped to help get First Home Buyers on the housing ladder. We will always maintain our commitment to quality and never compromise on it.
Our Homes
We have 1-3 bedroom KiwiBuild homes selling now across Auckland in Ormiston Fields - Flat Bush, Homai - Manurewa, and Rockfield Apartments, Oranga.
Featuring beautifully designed and well-appointed kitchens, with quality appliances. Flowing directly into dining and living areas, with seamless indoor-outdoor flow to private patio areas. These modern homes are low maintenance and are a perfect option for the first home buyer.
1 Bedroom homes priced from $509,000
2 Bedroom homes priced from $639,000
3 Bedrooms homes priced from $750,000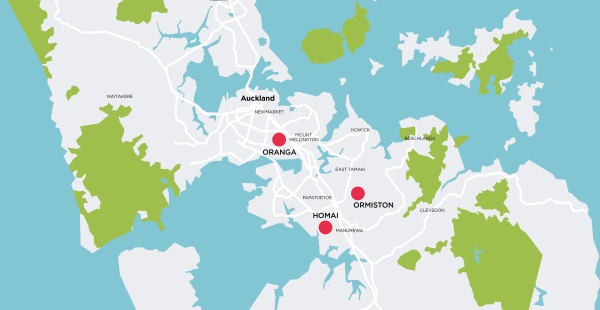 New to KiwiBuild?
If you are new to KiwiBuild, please allow time to create your KiwiBuild account, check your eligibility and apply for pre-approval. The KiwiBuild programme is a government initiative designed to help enable more home ownership opportunities for New Zealanders. You can find out more about the KiwiBuild programme here.

Check your eligibility
In order to buy a KiwiBuild home you will need to meet a few specific eligibility criteria, the following link will provide you with everything you need to know.
www.kiwibuild.govt.nz/kiwibuild-eligibility/check-your-eligibility/

Obtain Pre-Approval
To read more about how to submit an application for pre-approval visit:
www.kiwibuild.govt.nz/kiwibuild-eligibility/submit-your-application

KiwiBuild homes are extremely popular due to their lower price point so if you are interested we recommend you start the process of eligibility as soon as you can.
Considering First Home Partner?

As the name suggests, First Home Partner enables you to buy your home in partnership with the Government (administered by Kāinga Ora). Kāinga Ora makes the house purchase with you, but you are the majority owner. You will still require at least a 5% deposit and be able to obtain a bank loan for up to 80%. Kāinga Ora own the remaining share in your home which you buy back over time – until the house is entirely yours.
What is shared ownership?
Shared ownership means that you initially share ownership of the home with a third party who purchases the home with you (in this case Kāinga Ora). You are the majority homeowner and occupier, but Kāinga Ora will own a share in the home, that you will buy out over time.
Learn more about First Home Partner here:
https://kaingaora.govt.nz/home-ownership/first-home-partner/
Buying your first home?
Home ownership is the cornerstone of the Kiwi dream and Fletcher Living has a long history and strong commitment to providing quality new homes that people love to live in.
Starting out on your home ownership journey may seem daunting, but it doesn't have to be. We've pulled together a guide to help you understand the home-buying process from start to finish to make it as stress-free as possible.


We use cookies to ensure that we give you the best experience on our website. By continuing to use this website you are giving consent to cookies being used. View our privacy policy and terms of use for more details.