Looking for a bigger home?
Share
Get more Living in your inbox
Sign up to Living-news to receive top tips and inspirational content
Subscribe
Share
Starting to feel like you're living on top of each other? Are you expecting your first child or do the kids need a room of their own? Or do you need more space now that you're working from home?
As the family grows and your needs change, it's only natural that you might start feeling like your house needs to grow too! If you are thinking of making the move to a bigger home, there are some things to consider.
More rooms?
Where do you need more space and how will that space be used? If you've got a new baby on the horizon then extra bedrooms will be high on your list. Do the kids need a playroom? Then perhaps a space that doubles as a guest room and a play zone would tick the box. Being specific on how rooms will be used will help crystallize what you're looking for.
A bigger garden?
As children grow, so do their energy levels and the natural inclination is to encourage them outdoors. Modern homes have great indoor/outdoor flows, so it's easy to get children out in the fresh air and into a safe environment. A bigger garden does mean more care – so make sure that's something you're happy to take on.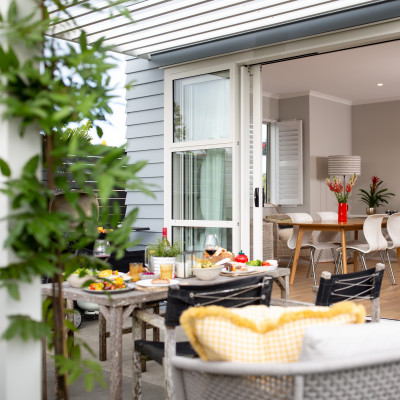 A garage or mancave?
Not every home has a garage and upsizing can be the ideal opportunity to get the cars off the street, store the suitcases or create that mancave. Again, thinking about how you'll use the space will help narrow down the types of homes you're searching for. How important is it to have a carpeted garage? If you've reassigned the garage as an additional room, do you still have ample street parking for your car/s?
A granny flat?
Creating space for extended family is another reason to upsize. Whether it's for elderly parents or adult children, you need to factor in their needs and comfort into your plans. Is there space for independent living – like a kitchenette, a separate bathroom, or lounge? Will they have their own private entrance, or will they have to walk through your lounge? Design how the new space needs to work for you and those living alongside you.
A home business?
The changing world of work has re-prioritised the importance of office space at home. If you're working from home a lot, then you'll really want to consider how quiet and warm your office space will be. Does the space allow you to reduce the noise from others who may be co-working alongside you, or the kids making kid-noises. Does it get sunlight, is there a nice outlook? A sunny space can really help bring that power bill down and save on heating throughout the day.
The price of upsizing?
A bigger home will certainly cost more, but if you are open to moving a little further out, to a new suburb, then the cost jump of upsizing may not be as large as you think. Price, size, and location are all important elements in your upsizing decision. Sometimes all it takes is a little bit of flexibility to find the balance that's perfect for you.
---
We use cookies to ensure that we give you the best experience on our website. By continuing to use this website you are giving consent to cookies being used. View our privacy policy and terms of use for more details.