Create and connect - kitchens designed for modern entertaining
Share
Get more Living in your inbox
Sign up to Living-news to receive top tips and inspirational content
Subscribe
Share
At Fletcher Living we sell completed new homes. Our homes have all the modern comforts of a quality new build, including the latest appliances and fittings from trusted brands.
The interiors are designed with on-trend colours and finishes to give homeowners a blank canvas. All they need to do is move in and add their finishing touches.
With this in mind we challenged our Interior Designers to create bespoke kitchens across three of our Auckland developments, Waiata Shores, Stonefields and Whenuapai.
These thoughtfully designed kitchens feature neutral colour palettes teamed with stylish Laminex finishes and elegant appliances from Fisher & Paykel.
The results are timeless, inviting kitchens that will inspire culinary creations and have our homeowners looking for excuses to entertain.
They're the kind of kitchens that quickly become the hub of the home - whether you're entertaining guests or sharing your day's events with the family over dinner.
Bold and Beautiful at Waiata Shores
Wood grain textures in contrasting dark and light tones bring elements of nature into this kitchen. The soothing colour scheme and clean horizontal lines support the home's harmonious, open plan flow and contribute to the overall feeling of space.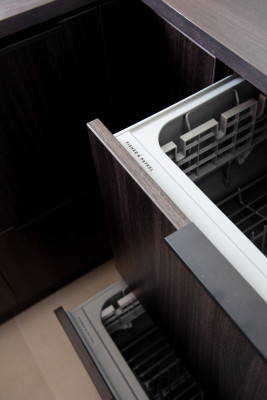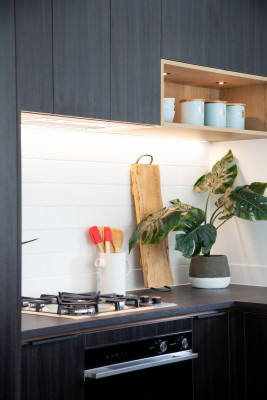 It's a bright, inviting area enhanced with thoughtful lighting. LED strip lighting amplifies theback of the tiled splashback, recessed LEDs shine above it and up-lights highlight open shelving.
It's a lighting scheme that will brighten the cook's experience.
The clever versatility of this kitchen creates plenty of space to gather, talk, laugh and live.
There's no question this beautiful, modern kitchen really is the heart of this home.
Uncompromisingly contemporary in Stonefields
In this kitchen the Caesarstone waterfall benchtop is teamed up with burnished wood and aged walnut cabinetry featuring continuous black powder coated handles to create immediate impact.
The Laminex Filo/Argento splashback creates a depth of colour in this kitchen, while fitting seamlessly with the surrounding cabinets to create stunning visual interest.
The inclusion of Fisher & Paykel's latest black stainless fridge, seals this kitchen's contemporary yet classic feel. It all comes together to create a modern, warm and homely space.
All our homes are built with storage in mind and this kitchen is no different. Additional drawers can be found inside the pantry and under the sink providing a space for every utensil and appliance.
Aside from its eye-catching design, the most striking feature of this kitchen is the convenience of multi-functional zones that can be used by various members of the family at the same time.
Sleek Simplicity in Whenuapai
It's a feature that makes this kitchen the sociable hub of this brand-new terrace home. Clean lines and an on-trend minimal colour palette celebrate sleek simplicity in this Whenuapai kitchen.
Predominately black, including matt black tapware and Laminex splashback, this kitchen is warmed with the Caesarstone Vanilla Noir bench top, woodgrain cabinets and timber flooring.
Other striking features include the matching built-in Fisher & Paykel twin ovens and double door stainless fridge.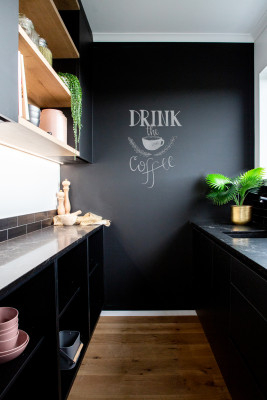 This kitchen is also packed with practical functionality. Chief among these features is the breakfast bar extension which expands the food prep area and doubles as casual in-kitchen dining. Meanwhile work space is extended further into the spacious butler's pantry which keeps prep out of sight of guests and also offers additional storage.
Stylish and contemporary this kitchen integrates effortlessly into the home's modern interior spaces.
---
We use cookies to ensure that we give you the best experience on our website. By continuing to use this website you are giving consent to cookies being used. View our privacy policy and terms of use for more details.