What's the best way to buy or sell a home in New Zealand?
Share
Get more Living in your inbox
Sign up to Living-news to receive top tips and inspirational content
Subscribe
Share
Whether you're buying for the first time, or selling to move into your forever home, you'll soon come across a range of buying and selling options. Each one with its own pros and cons – so what's best for you? And how do you make sure you don't get swept up in the frenzy of the current red-hot property market?
Going, going, really?
Despite what you might see on TV, the most common forms of sale are not by auction. Auctions made up 16.5% of total sales in September 2020 up from 13.1% at the same time last year, as published by REINZ. Sales by advertised price, deadline sale and by negotiation still make up the lion's share of property sales in New Zealand. There are big regional differences, according to REINZ, the number of properties sold at auction in Gisborne in Sept 2020 topped 74.4% (29 properties) up from 30.8% (12 properties in Sept 2019, well ahead of the next biggest region, Auckland with 27.9% or 799 properties sold under the hammer in Sept 2020, up from 25.9% (483 properties) the same time last year.
In a hot market, Auctions are popular for seller and real estate agents as they maximise the sale price, by encouraging competitive and sometimes crazy bidding. But in quieter times, the success rate can drop off significantly.
Let's look at the different forms of buying and selling one by one:
Advertised price: This is where the vendor has set the sale price and is willing to look at offers that meet that figure. Buyers can make a conditional or unconditional offer at any time with no time limit. This, of course, doesn't mean there's no room for negotiation and a lower offer can be put in and counter-offered by the seller. An offer may also request certain chattels, like the fridge should be included in the price. In a hot market, the risk is that someone else will meet the asking price with no conditions. Putting a price on the property removes any doubt and it also saves people time. There's no point falling in love with a home, only to discover its way outside of your reach.
By Negotiation: Sometimes it's hard to price a house and the owner may simply want to see what the market has to say. Of course, the seller will always have a figure in mind, but doesn't want to put people off by getting the pricing wrong. Like all negotiations, this involves a bit of give and take by both parties to get to an agreement.
Deadline Sale: This is often used when time is critical to a seller or as a technique to hurry along a "stuck" property. Putting a deadline forces interested buyers to make a decision. Offers must be received before the end of the advertised deadline and the seller doesn't need to accept any of the offers or could simply choose to negotiate with the best offer.
Tender: This is similar to a deadline sale but allows buyers to make confidential sealed bids. These are then presented by the agents to the seller and opened together (if there's more than one bid). The seller has 5 days to accept any of the tenders and can negotiate with the buyer's on price, chattels and settlement dates. If there is more than one tender, the seller can move to a multi-offer process, enabling buyers to come back with their best offer.
Auction: Fast, sometimes furious and there's always a bit of theatre with an auction. The vendor sets a reserve price and the property only 'goes on the market' once the reserve has been met. All auctions are unconditional and therefore buyers really need to do their homework beforehand. The only thing up for negotiation is the settlement date. Once the auctioneer's hammer falls the sale must go ahead or the buyer can face severe financial penalties.
The Government together with Consumer NZ, have launched a website - Settled.co.nz to help Kiwis navigate their way through the buying and selling process. So if you'd like more detailed information on the sale options, click here.
What about Fletcher Living Homes?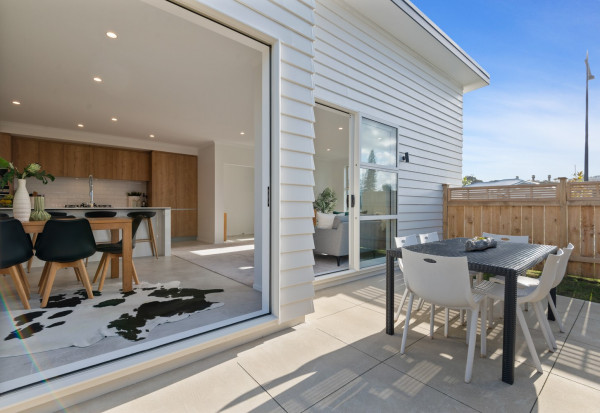 Our homes are priced to reflect market conditions. In periods of high demand, we may alter the sales process from a listed price to a multi-offer or tender process, to ensure fairness across interested parties. We do not use auctions as a sales method, as we believe our sales process ensures greater transparency of the final purchase price.
This provides buyers with a greater level of confidence when seeking a loan approval from their bank, as they know the final purchase price. To view our homes, click here adjust the search options to match your budget, the desired number of bedrooms and bathrooms and the location you are interested in. You can, of course, enquire about properties under construction or coming soon and our team will make sure your interest is noted and that you're kept informed along the way!
Whether you're a first time or seasoned buyer, you can read more about our sales process, here.
---
We use cookies to ensure that we give you the best experience on our website. By continuing to use this website you are giving consent to cookies being used. View our privacy policy and terms of use for more details.