A home in the heart of Christchurch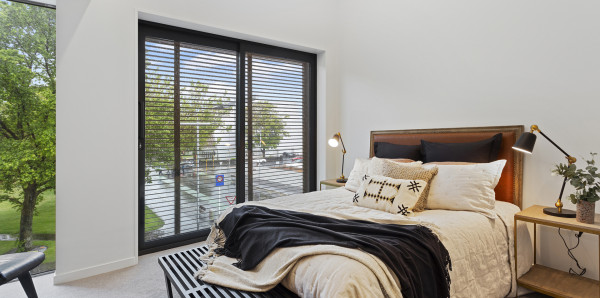 A home in the heart of Christchurch
Composed of twenty architecturally-designed terrace homes. Each home incorporates three bedrooms in a three storey layout, providing generous living space and picturesque views.
Stylish exterior louvres ensure privacy while allowing ample light to grace the interior space. Each home includes a private access gate into the beautifully landscaped and secure, inner courtyard. Built with the latest construction techniques and materials, and demonstrating careful attention to detail throughout, Latimer Terraces have been crafted to a high standard befitting this iconic new residence.
Latimer Terraces have been designed to achieve a Homestar 6 rating, incorporating increased insulation, thermal modelling, effective moisture control and efficient heating, lighting and appliances. These homes also meet the Lifemark 4 standard for safety and usability for people of all ages.
Explore homes
Explore Latimer Terraces to find your new home in the heart of the city.
Latimer Terraces sits between two open and inviting city greenspaces, Rauora Park, and Latimer Square and borders Hereford Street. Located beside the historic Christchurch Club, this exciting new residence is integral with the city's celebrated heritage.
We use cookies to ensure that we give you the best experience on our website. By continuing to use this website you are giving consent to cookies being used. View our privacy policy and terms of use for more details.